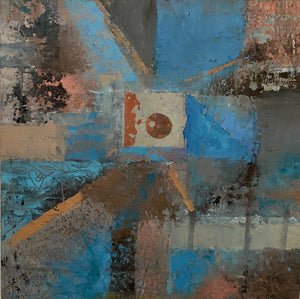 Judith Stein
Hidden Messages from the Past
Regular price
$185.00
$0.00
Unit price
per
This is an abstract mixed media painting and collage on cradled wood panel reflecting remnants of the past .

Mixed Media by Judith Stein

Size: 12x12

About Judith Stein
Painting has been a wonderful way for me to express my personal connection with nature from a place deep inside. Creating art enables me to slow down, to see more clearly in the moment, and to tap into the creative spirit within. Although I never dreamed of becoming an artist, a number of years ago, my husband and I decided to try our hand at painting after seeing three deeply inspiring plays about art (The Blue Flower, Red and Art). Actually, it was my husband's spur-of-the-moment idea, one lazy summer weekend, to drive to Michaels, buy some basic supplies, and teach himself to paint! ("After all, how hard could it be?") But I just couldn't be left out of all of the fun, so as soon as he set up an easel, took out a canvas, and started painting, I grabbed a paint brush and started creating my own work of art on the same canvas! From that moment on, I fell in love with oil painting. In the past, I especially enjoyed painting seascapes and meeting the challenges of re-creating the rhythm and movement of the waves, the ever changing colors of the water, and its immense scope and size. In most of my recent work, however, I have delved into painting purely abstract compositions, highlighting the rhythms, textures, and vivid colors often found in nature. Adding cold wax and oil pastels to my oil painting process has allowed me to be less constrained by forms and details and therefore, freer and more intuitive in my approach. I love the feel of the buttery consistency of the cold wax, the limitless variety of patterns, shapes and textures that can be embedded in my work, and the interesting effects of exposing the many underlying layers to varying degrees. In addition, the cold wax, as well as other materials incorporated in my work, enhances the transparency, consistency, and reflectivity of the paint.
---
---
---
Share this Product